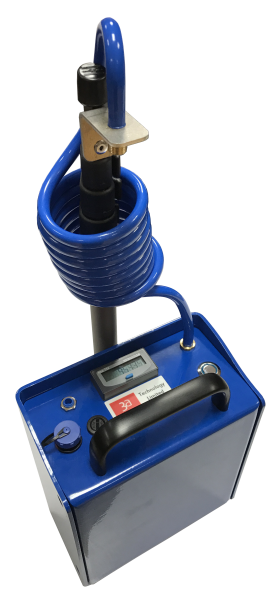 JTFs-16TT  16L/Min Air Sampling Pump

---
JTFs-16TT is our brand new model of 16 litre air sampling pump with a fresh new look that is ultra light and compact, weighing 2.8Kgs (including mast and battery) which is over 2Kgs lighter than our previous model.
Not only is it ultra light and compact, we have increased the run time to our previous model and also other pumps out on the market. On top of this we have also decreased charge times taking 2.5-3 hours to charge the pump which makes it perfect due to its size and weight to get in and out of jobs.
This model features a telescopic mast with a timer display. Adjustable flow from 0-18L/Min with run times up to 3 hours+ at 16L/Min using a 1.2u filter.
*Run times will vary depending on the manufacturers of filters/sample media.
Product Shipping:

Next Day Courier From

(£ 18.50)
Product Description
Specs and Features:
Run Time of up to 3 Hours+ @ 16L/min with a 1.2u 25mm Asbestos Filter
Run Time of up to 12 Hours+ @ 8L/min with a 1.2u 25mm Asbestos Filter
Robust unit made from aircraft grade aluminium designed for a long active life
Robust stainless steel on/off switch with a Blue LED Indicator ON/OFF
On board battery management system to maintain flow rate
Automatic low battery cut off system to protect the battery
Water and dust sealed charging plug and socket
Custom made air tight/sealed hose inlets and tubing
Height adjustable telescopic mast
1.8 Amp Charger Included
Features
Flow Range

0-19

L/Min

Run Time

Up to 4

Hours+

Battery Pack

14.4V 4.5

Ah

Size (w/o mast)

H20 x W16 x D9

cm

Size (w/ mast)

H45 x W16 x D14

cm

Weight

2.8

Kgs