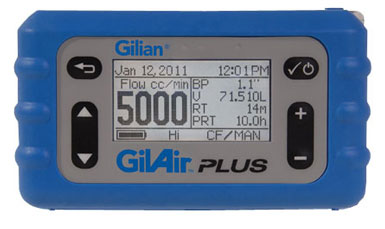 The world's smallest, lightest, most versatile personal sampling pump measuring dust, gases and vapours with switchable high and low flow options (20-5000cc/min), in one compact unit.
Data logging capabilities show a full record of the sample train, giving volume and time details for archiving and printing. Any flow restrictions can be easily seen and accounted for.
Product Description
Downloads:
Click the links below
Specs and Features:
Basic, data logging and STP (Standard Temperature and Pressure) models available
Constant flow operation up to 40 inches water back pressure
Flow rate setting down to 20 cc/min for gases and vapours
Temperature and pressure compensation option
Large display confirms Real Time Flow Rate, Sample Time and Sample Volume
Rechargeable batteries with an 8 hour minimum run time
Simple Charging Dock and 3.5 hour fast charge from fully discharged for 8+ hour operation available as single, three or five stations
Dock incorporates USB interface to program instrument with multiple set-ups and download logged data via USB port on charger.